Most Effective Carpet Burn Restoration Service By Experts In Adelaide
For more than two decades, Invisible Carpet Repair has been fixing carpets in Adelaide. We restore nearly all carpet damage utilising fixes that are practically undetectable. Burnt carpets develop damage very quickly. The carpet fibres can melt or singe in just a few seconds of exposure to a heat source. Burns on the carpet cannot be removed, but they may be repaired with our Carpet Burn Restoration Adelaide professionals. We replace burned carpet sections with new carpet sections to heal carpet burns, and occasionally you can not even tell that there has been an issue. Therefore, to save money and your carpet, test our carpet repair services before making any plans for a carpet replacement. You will be pleasantly surprised by our competitive costs and excellent outcomes!
You may also inquire about other carpet upkeep options from us. Don't you think we have the best deals? Get a quotation right away! Call us at [08 6835 6085] as soon as possible.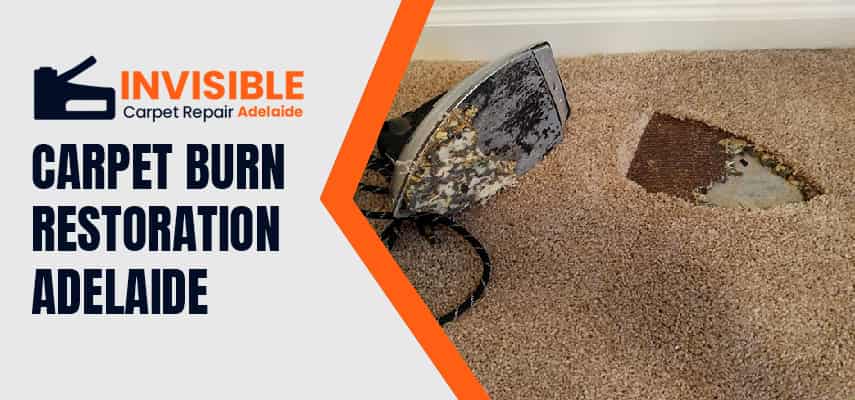 What Is The Process Of Our Carpet Burn Repair
The process we follow for our carpet burn repair technique is as follows:
To begin with carpet burn repair we initially sweep up any loose particles from your carpet. This makes the process easy for us.
We then begin to trim the burned carpet with caution using the utility knife. Our professionals keep in mind to avoid cutting the cushioning underneath when trying to remove the burned area.
With keen attention, we cut the carpet sample to size using the damaged section as a guide. Make sure that the design of the sample carpet matches the carpet you are replacing.
Before attaching a new carpet patch we clean the area properly.
Our experts then place adhesive tape or glue to fix the carpet sample in place. Following that we properly set up the carpet piece in place of the damaged carpet area.
We then comb the carpet remnant gently into the original carpet only after the area has been let to dry for a few hours.
When There Is A Need To Call Our Professionals
The bare necessities in households all across the world are carpets. They merit timely care and cleaning given the number of benefits they contribute. But if it overcomes any accident if cigarette ash or iron burns, it appears messier. With regard to carpets, we have years of experience. Our staff concentrates on handling your carpet according to its material, texture, colour fastness, and all other important characteristics. Book us and give us a try. With our advanced technology and skilled carpet specialists, we will make your carpet look new. Our team of professionals will help you in every situation. Our advantage in the carpet sector comes from years of experience in carpet repair.
We are renowned for having a crew that values our clients and treats your carpets with the utmost care. No matter how damaged your carpet is. Our experts will inspect and provide you with the wisest carpet burn repair solution. So reach us for the best carpet burn repair service.
What Are The Perks Of Choosing Our Carpet Repair Company?
Providing the best and fastest carpet repair services for years, we have served all suburbs of Adelaide. Due to the following, we are a market leader in the carpet repair sector:
Our highly qualified staff of experts will provide you with services that are of the finest finishing.
To get excellent results, only the best technique is required. We have those techniques to repair carpets.
Our reservations are accepted 365 days a year. You can book us any time.
To be available for all the customers in Adelaide, we are here with the most affordable carpet repair rates.
For the proper carpet repair outcome, we have professionals with complete knowledge and years of experience.
To serve you on time, we are available 24 by 7. Thus, book us anytime.
FAQs – Carpet Burn Restoration Adelaide
In Adelaide suburbs, we do offer same-day services. Therefore, you can schedule our same-day services by calling us at [
08 6835 6085
].
Yes, we employ experts who are highly trained and professional. Our team has many years of experience in the carpet repair sector. Therefore we offer the best service because they are skilled professionals.
Yes, we do not compromise on the quality of our service because of the affordable rates. We aim to offer the best service at fair rates. The average carpet repair cost is $100-$350 depending upon various factors.
Carpet Burn Restoration Adelaide
Call us at 08 6835 6085 Carpet Burn Restoration Adelaide
Location: Adelaide, WA, 5000, Australia