Employ Us For Excellent Carpet Hole Repair Service In Adelaide
We are always there to help you repair your carpet. Invisible Carpet Repair is here with all the services you want for Carpet Hole Fixing Adelaide services. We offer carpet repair services all across Adelaide. Moreover, our Adelaide carpet restoration professionals can assist you in restoring your fading carpets. Also, we have expertise in restoring carpets that have been ruined and have begun to show indications of wear and tear.
If you are unclear about your carpet needs, we provide a free support system to help you. Contact our carpet hole repair Adelaide staff to determine whether your carpet requires restoration or replacement. We have years of carpet damage restoration experience and can inform you about the quality of your carpet. Moreover, to book our services you can call us at [08 6835 6085]. Furthermore, we are available round the clock to help you.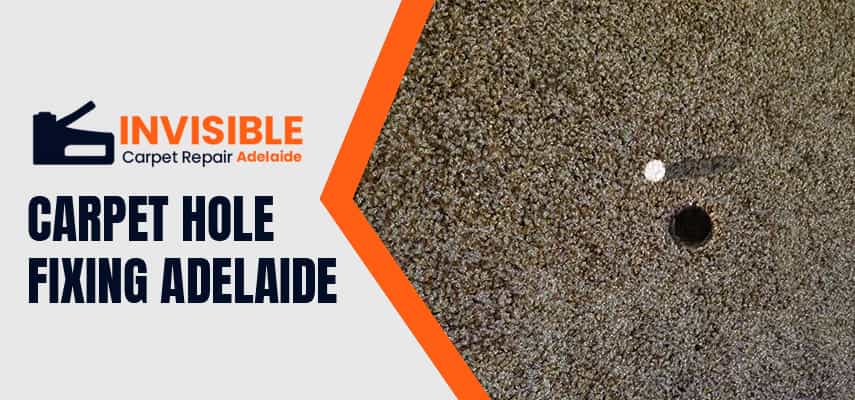 What Is The Procedure We Follow For Carpet Hole Repair
One can easily detect a hole in a carpet. Therefore we are here to help you to fix your carpet with our below-mentioned procedure:
Examination: Firstly, we start by looking over your carpet with our crew. This indicates where we should put more effort.
Fixing: We carefully patch up every carpet hole. We will repair your carpet using our modern tools and technology. Our expertise in managing even complex materials results from this.
Safety advice: Our carpet restoration process ends by including some precautionary suggestions to assist you in maintaining your carpet moving ahead and avoid the need to book carpet repair professionals again quickly.
When Is There A Need To A Professional For Carpet Hole Repair
Ignoring the carpet holes will only lead to more costly repairs? The little holes could grow into serious wounds on your carpet, costing you more money. Therefore it is recommended to call us as soon as you see a hole in your carpet. Most carpet holes are unintentional, whether they result from dropping a lit cigarette or anything. A damaged carpet, on the other hand, appears to be a deformity and detracts from the overall visual appeal of your design. Don't worry: just call us. The degree of the loss is carefully assessed, and the damaged area is replaced with a new section of the same carpet.
Perks Of Choosing Our Carpet Hole Repair Team
Invisible Carpet Repair is a reputable company with experts in their field. We are aware of what clients need and want. Although carpets are prone to holes, just a small hole may be repaired rather than the entire carpet. In Adelaide, we provide the best carpet hole repair services. The advantages stated here include:
We provide a wide range of cost-effective, client-friendly services. Therefore you can unhesitantly employ us.
For our services, we only employ cutting-edge technology and the greatest tools. Hence, you will always get the finest result in a short time.
Our team of professionals assesses the problem and provides the most appropriate service for the clients.
Also, we offer 24/7 customer support services and our committed staff members work on weekends. We are the people you can count on in a carpet hole repair emergency.
FAQs – Carpet Hole Fixing Adelaide
Yes. Carpet holes may be a real pain. A carpet hole should always be patched. The cheapest option to extend the life of your carpet is to repair carpet holes.
Pick up any stray carpet fibres from the carpet's border and the carpeting all around the hole. Apply a thin bead of carpet seam adhesive around the cutout's edge. Place the patch firmly onto the disc by lining up the arrow on it with the direction of the carpet's fibres throughout the rest of the carpet.
Yes, our team provides you assistance whenever you wish. You simply ring us for the service.
Carpet Hole Fixing Adelaide
Call us at 08 6835 6085 Carpet Hole Fixing Adelaide
Location: Adelaide, SA, 5000, Australia