Reach Out To Us For Amazing Carpet Dyeing Solutions
Do you want to replace your sun-damaged carpets or would you prefer a slightly darker carpet? Test out our carpet colouring options! Invisible Carpet Repair is one of Adelaide's top providers of carpet and rug dyeing, bleach spot removal, and colour correction services. To make the afflicted fibres mix in with the majority of the carpet or rug, our carpet dyeing Adelaide professionals calculate the necessary colours and add them. Thus, you can ring us at [08 6835 6085] to book our services.
The carpet is proven to be colourfast and permanent using organic dyes. Your carpet may be coloured if it is made of wool or nylon and the fibres are in good condition. Accidents do occur! We can assist with any problem, including bleach spills, colour fading, chemical reactions, and fading. Blue and red are often colours that bleach destroys. Because most colours are made up of a combination of red, blue, and yellow, the bleach stain or spot that is left over is distinctly yellow.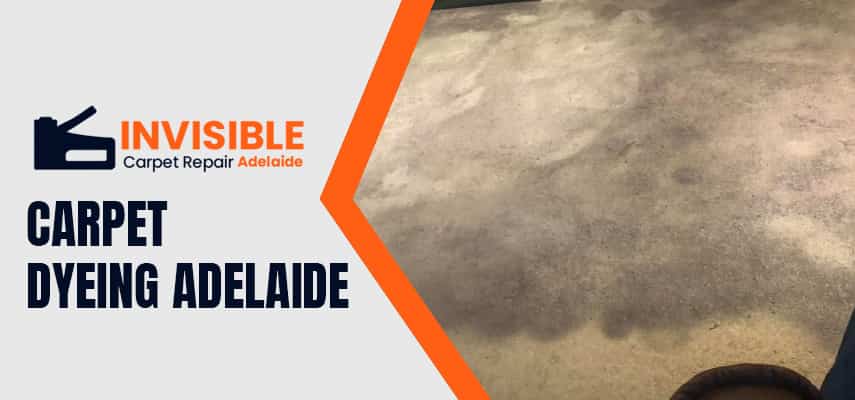 What Is The Process of Our Carpet Dyeing Services?
You can look at the process we follow for carpet dyeing. We make sure all work is done properly.
Firstly, for fine finishing of the colour, it is very important to inspect the type of fabric. Therefore, we first inspect the entire carpet to know which dye can absorb the fibre easily.
Secondly, our team then vacates the surroundings so that no colour spills off. We place newspapers so that the floor remains clean and tidy.
Before dyeing the carpet we properly clean the carpet to make sure there is no dust in the carpet and the fabric is not tangled.
Following the cleaning, we use organic dyes to colour your colour. We perform every work with utmost care.
After completing the dyeing process we keep the carpet for dyeing.
When Should You Contact Our Expert?
Are the hand-knotted Persian or Oriental carpets you own sun-faded? The colours on the back of the rug, which are the original colours, may be clearly distinguished from those on the front. Exposure to sunshine has an impact on the majority of red hues. We can revive those fading colours with our rug dyeing technique. Our ground-breaking colour repair method is intended to restore sun-bleached colours and eliminate dye bleed caused by improper washing or flooding. To replicate the most detailed rug designs, we employ an airbrush. Most colours may be matched, and our organic dyes are expected for the lifetime of the rug! Because of our unbeatable services, you can ring us any time for the service. We are here to help you in every situation. So grab your phone and ring us right now.
What Are The Reason To Choose Our Carpet Dyeing Professionals?
Invisible Carpet Repair is one of the most reputed firms in Adelaide. You can have a look at the perks of having us for the service:
Cost-effective: All the services we provide you are budget-friendly. Therefore our services will stay within your budget.
Reputed: We are a legal carpet dyeing company in Adelaide. Therefore you can trust us.
Professionals: We have trained professionals to make your carpet look brand new. We have years of experience in dealing with all types of carpet issues.
On-time service: No matter the time, we can reach you on time. Thus call us whenever you need us for the service.
Advanced tools: We use modern techniques to provide you with the most prime outcome. So you will always get unbeatable services from us.
FAQs – Carpet Dyeing Adelaide
Our professionals use the best dyes that will be long-lasting, non-toxic, and colourfast for the whole lifespan of your carpets.
Yes, we can reach you even on holidays. Simply ring us to book our services.
We provide on-site carpet dyeing and restoration services. All you need to do is ring us at [08 6835 6085].
Carpet Dyeing Adelaide
Call us at 08 6835 6085 Carpet Dyeing Adelaide
Location: Adelaide, SA, 5000, Australia