Get Exclusive Carpet Patching Services In Adelaide
Professionals at Invisible Carpet Repair are highly experienced in patch repair services for your carpet. Having fixed carpets all around Adelaide for several years, we have earned a reputation for being both dependable and reasonably priced. Iron burns, holes and scratches are just a few of the things that can cause erratic streaks and markings on carpets. Luckily, carpet patch repair is a speciality of our personnel. So to make your carpet look absolutely perfect, ring us quickly. We are available all day long to serve you with carpet patching in Adelaide. You can ring us at [08 6835 6085] to book our services. With the best rates, we are here to give you prompt and the most effective carpet patching service all across Adelaide.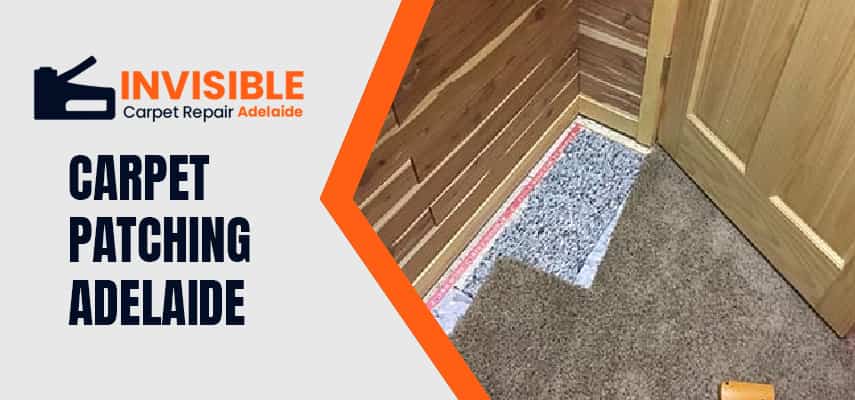 What Is The Process Of Our Carpet Patching Service
We use a customised procedure to repair your carpets.
Space vacancy: Firstly, the area in which we need to repair the carpet must be vacant. Hence you must arrange all the furniture.
Employ modern equipment: All of our professionals use cutting-edge tools that allow them to repair carpet holes, burns and tears. We are qualified and permitted to utilise this machinery, which is required for proper carpet patching and repair.
Patch arrangement: To do a complete repair, certain carpets must be trimmed in some places. Carpets that have been loosened cannot be reinstalled in space. Thus, we must cut a portion of it in order to fix it perfectly.
Fill in carpet gaps: In order to prevent future stress and strain, our professionals set the carpet into the walls and corners as well.
Glueing: We have a specific sort of adhesive that we use to adhere the carpet to the floor. Additionally, if the damage is irreversible, we patch the carpet to fix it. The carpet is prepared for use once we are done, which is the nicest part of our glueing procedure. It is not necessary to wait till it dries.
When Can You Call Us For Carpet Patching Services
Every family must do the crucial chore of maintaining the carpet. You must take good care of your carpet if you want to prolong its life. Since even a ring hole in the carpet can lead to extensive damage. To prevent carpet damage you can call us prior. Our worthy professionals will reach you and serve you with passion.
Having decades of expertise, we take great pleasure in providing top-notch carpet patching services. Since our services are up to date with standards and developments, customers need not worry about their quality. Our team members are extremely knowledgeable and skilled, which enables them to operate with accuracy and discipline. Our expertise in this area has provided us with knowledge of all potential carpet repairs that clients may require. We offer exceptional results by utilising the most recent technology.
What Are The Reasons For Choosing Our Carpet Patching Team?
Available round the clock: Our team is adaptable and available to you all day long to help you. Thus you can call us any time for the bookings. You can call our carpet patching team in Adelaide for emergency services.
Reliable Service: We have skilled specialists in Adelaide that offer dependable carpet patch repair services. Also, we have years of experience in dealing with all types of carpet repair services.
Top Carpet Repair Company: We are Adelaide's top choice for carpet patching services. We provide commendable service at a fair rate.
Advanced tool: To provide you with prime quality services, we use modern tools and technology.
Free Online Quote: We provide all of our Adelaide customers with free online carpet repair quotes.
Budget-friendly: Along with exclusive carpet repair services, we offer cost-effective services. Our assistance will not affect your pocket.
FAQs – Carpet Patching Adelaide
The amount of harm to the carpet and the quantity of patching required will determine how much it will cost to repair it. Get in touch with our professionals to receive an express quotation.
Professionals work with you to find solutions and provide outcomes that will last a lifetime. For any carpet problems, they have rapid and efficient fixes paired with cutting-edge technology.
Yes, we are able to provide you with exclusive carpet patch repair services all across and near Adelaide. You simply need to ring us for the booking answer will soon be at your doorsteps for assistance.
Carpet Patching Adelaide
Call us at 08 6835 6085 Carpet Patching Adelaide
Location: Adelaide, WA, 5000, Australia