Incredible Carpet Joint And Spilt Repair Service In Adelaide
Invisible Carpet Repair is a locally owned and operated company that specialises in carpet joint and spilt repair services for years. We are the legal caret joint repair company in Adelaide. To ensure that our customers receive the finest outcomes possible, we always utilise the most up-to-date tools. We will always answer our phone when you call us. No matter the time and date we are always there for you. As a result, you will never have to deal with outside contractors and will always receive clear answers to all of your queries. Also, our Carpet Joints and Splits Adelaide team is highly educated and therefore provides excellent service. You can trust our service. So if you want to experience our assistance, ring us at [08 6835 6085]. We are here to provide exceptional carpet repair service at an affordable price. So contact us as soon as possible.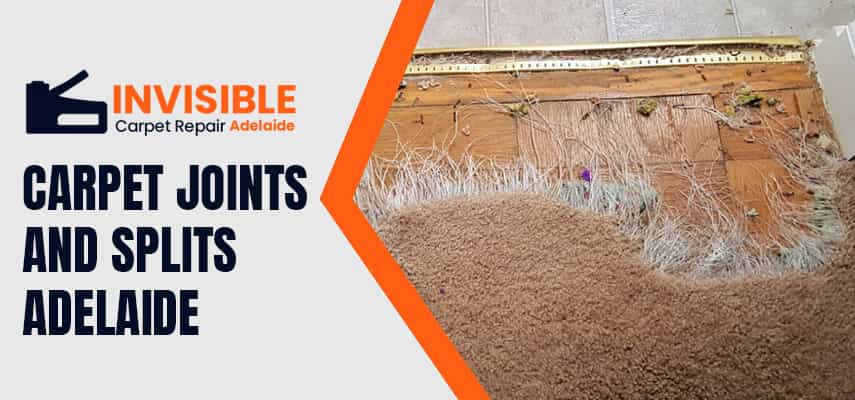 Process of Our Carpet Joints and Splits Repair
An enormous advantage of using our services is avoiding the need to exchange your damaged carpet. Have a look at the process of how we transform your damaged carpet into new.
Inspection: Our experts will reach your place and first inspect your carpet and see how damaged your carpet is. According to the condition of your carpet, the professionals will plan the action.
Plan of action: We will then repair the joint and splits of the carpet. We do our job with utmost care. We use the latest techniques to repair your carpet.
Weave: After properly repairing the carpet, we weave the carpet again. This ensures the complete repair of your carpet.
Carpet stretching and placement: Lastly, we place the carpet in its proper place and make it ready to use.
When There Is Need To Hire A Professional For Carpet Joint And Spilt Repair
A damaged caret can be really troublesome. It can even cause accidents, therefore repairing it as soon as possible is an important task. Invisible Carpet Repair can assist you regardless of the kind of damage your carpet has sustained. You do not need to put up with a ruined carpet any longer. To provide you with a free carpet repair quote, we are there round the clock over call. With years of expertise in fixing carpets, our professionals can also mend yours. Whatever kind of carpet you have we can assist. All of this is possible because of our years of experience. So, whenever you face such problems with your carpet, you can contact us at the same time. Thus, do not wait more and reach us for the service.
What Are The Reasons To Choose Our Carpet Repair Professionals?
Professionalism: The members of our team are all very proficient and knowledgeable. You can rely on us to offer Adelaide's best carpet repair services. In order to keep our staff advanced, we additionally train them in the appropriate methods and abilities.
Good Quality Services: We provide superior services that produce long-lasting outcomes for you. We help you with all types of carpet damage problems.
Easy reservations: Since our customer service staff is available 24/7, you can book an appointment at any time of the day. This makes it possible to book accommodations easily and with minimal hassle.
Cost-effective pricing: The cost of carpet repair in Adelaide is really reasonable and priced very well. All of our services are affordable and convenient for your budget. In addition, there are no additional fees or hidden costs associated with our services.
Local company: We are a neighbourhood carpet repair company that offers services in and around Adelaide. We service all areas of Adelaide on the same day. Therefore, if you live in any of the nearby areas, you may get in touch with us at any time.
FAQs – Carpet Joints and Splits Adelaide
Yes, our carpet repair cost is very reasonable. We do not charge much from our clients. Thus we always give budget-friendly carpet repair services.
Yes, we offer same-day carpet joint and split repair services in the parts of Adelaide and the nearby places. All you need is to ring us and book your slot. Our team will reach you on time for assistance.
Yes, our experts are all skilled and educated. Therefore you will always get exclusive services from us.
Carpet Joints and Splits Adelaide
Call us at 08 6835 6085 Carpet Joints and Splits Adelaide
Location: Adelaide, SA, 5000, Australia